Return to Cabinet INDEX
To Wood Selection & Options Pages
ARISTOCRAT M Plus Cabinet Humidors
Starting at $1669.00 60+ Box Storage
The Aristocrat M & M+ Cabinet Humidors are for maximum storage in a bookcase footprint.

A combination of the unparalled precision of computerized cutting technology & old fashioned hand craftsmenship & finishing.

The net result is an exquisite piece of furniture & an outstanding humidor at an affordable price.

All of the Aristocrat drawer, molding & wood options are available

*Self closing euro hinges, upper & lower magnets for secure seal
*Solid Brass hardware

*Adjustable shelves
*Note the full extension drawer for easy access.

*Commercial grade roller slides
*Ventilation slots in the drawer are angled to allow versatile storage

*Digital Set & Forget Electronic humidification is standard.
*Tempered glass or flat panel wood door is standard.
Aristocrat M Cabinets 60+ box storage

Aristocrat M Plus- Dark Red Mahogany
Inlay Top & Glass Door
Note solid spanish cedar shelves,drawers


Aristocrat M Plus
Quilted Maple Panels & Natural Cherry
Inlay Top- Quilt Raised Panels


Aristocrat M Plus THC Crown
Dark Red Mahogany
Split Bevel Glass & Raised Panel Doors
Aristocrat M Plus Cabinets 60+ box storage




Aristocrat M
Full Extension Drawer
Fully Adjustable Dividers


Aristocrat M Plus 25D
Dark Red Mahogany
Standard Top & Glass Doors
Full Extension Shelves & Drawer


Aristocrat M Plus
Natural Cherry
Standard Top & Glass Doors
DX Drawer for Accessories
Click on photo's-text for larger view
Examples of wood & options
Standard Configurations



DX Upper Accessory/Cigar Drawers



DX Lower Accessory/ Cigar Drawers


Various Combinations of Figured Woods, Options or Glass









Various Combination of Figured Woods, Options or Glass
Click here for Temperature & Humidity controlled Aristocrat Plus Cabinets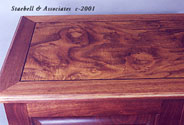 CLICK HERE FOR MORE WOOD, DOOR & TOP OPTIONS
TOLL FREE ORDER LINE 1-800-955-1843
Questions?, Additional info?, Need a high resolution photo that the internet can't provide?
Drop me a E-Mail.
---
STAEBELL & ASSOCIATES
(214) 341-7885
1-800-955-1843

---
Copyright © 1997-2015
All Rights Reserved